Dog Grooming Services in Las Vegas, NV
If you're looking for the best dog groomer near Las Vegas, NV, then look no further than Woof Gang Bakery & Grooming Henderson. Our professional pet groomers provide exceptional service with a gentle touch to get your pet looking and feeling their best. Our experts groom all sizes of dogs. Whether your beloved pet requires a simple wash and brush visit, or it's time for a bit of extra pampering, our devoted crew is here to assist with all your wishes for dog grooming. We offer a hygienic, safe, and friendly place to freshen up your dog. At the time of scheduling, kindly mention your dog's age, disposition, and size category in order to better help us match you with the correct dog groomer and solutions. Schedule your appointment today!
Size Chart
X-Small Dog: under 10 lbs
Small Dog: 10 – 20 lbs
Medium Dog: 20 – 40 lbs
Large Dog: 40 – 60 lbs
X-Large Dog: 60 – 80 lbs
Oversize: over 80 lbs
We ask you to fill out our grooming agreements in advance to expedite your drop-off! All grooming services must fill out the "Woof Gang Standard Grooming Agreement". Some services will require additional acknowledgments such as the "Senior Dog / Medical Release", "Matting Acknowledgement", and/or the "Shave Down / Instructions & Care". These can be found on our online booking page.

Full Groom
Includes luxury bath, blow dry, nail trim, ear cleaning, and styled haircut including trimming of the face, sanitary area, and paw pads. Also includes external gland expression.


Mini Groom
Includes luxury bath, blow dry, nail trim, ear cleaning and trimming of the sanitary area, light trim on face and paw pads. Also includes external gland expression.

Pet Wellness Package
*Ask about pricing details. Spoiling your pooch made easy! Luxurious bath and brush. Includes teeth brushing and choice of spa upgrade; TheraSpa, oil treatment, or invigorating mud wrap.

Puppy Mini-Groom Package
(Under 6 months and less than 25 lbs)
Includes luxury bath, blow dry, nail trim, ear cleaning, trimming of the sanitary area, light trim on face and paw pads. Also includes external gland expression.

Hand Scissor Groom
Sometimes pups need a special haircut with just scissors! Our groomer will be able to help you identify the perfect style for your dog.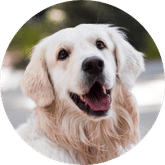 Top Dog Package
Luxury upgraded shampoo and conditioner, blueberry facial, coconut paw treatment, and teeth brushing.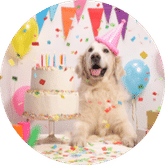 "Pawty Animal" Happy Birthday Experience!
Pets choice of relaxing blueberry facial, coconut paw wrap, or nail painting. Includes choice of upgraded birthday bandanna, tie, bows, or hair ribbons, and a "Happy Birthday" decorated homemade cookie.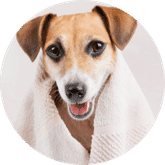 The King Calm
For our most prestigious pets. Luminous skin and coat treatment infused with 500MG full-spectrum CBD. Boosted with all-natural antibacterial botanicals. Includes a royal shampoo lather and CBD recovery balm paw and snout rub. *certified vegan & organic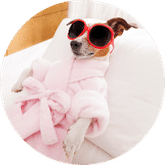 Zen Dog Package
Soothing mineral mud bath (Mint, Coconut, Mango) or a warm aromatherapy conditioning oil wrap. Alleviates minor skin irritations and infuses skin hydration.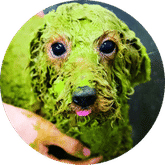 Holistic Herb Pack Approach
Organic & ecofriendly. Nourishing Ayurveda! 100% raw paste. All-natural ingredients for skin, hair, and teeth. Keeps pet's health and beauty fully maintained. Prolongs fresh voluminous coats, clean skin, and fresh breath. *certified by the USA and ECOCERT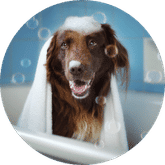 TheraSpa Skin Treatment
PH neutral micro-bubble cleanse. Combats yeast, hotspots, dry skin, and hair loss. Leaves hair supple and soft. Gentle enough for the most allergic skin types. *Fragrance free & hypoallergenic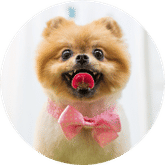 Glam is Our Jam
Staff favorite! Best scent of the month. Upgraded shampoo & spritzer.

Additional Pampering
* Additional Pampering menu is in addition to grooming package pricing.
Blueberry Facial/Stain Whitener
Teeth Brushing
Plaque Cleanse & Enzymatic Spray
Pawdicure (clip or grind)
Paws and Claws
Coconut Paw Wrap
Nail Painting
Clean Feet and/or Face
Creative Coloring
Feather Application
De-Matting/Brush Out
Coat Removal
Anal Glands Expressed (External)
Self Wash
WHAT Las Vegas CUSTOMERS ARE SAYING
We love our customers from Las Vegas areas like MacDonald Ranch, Seven Hills, Henderson, Carver Park, Whitney Ranch, Boulder City, East Las Vegas, Paradise, Spring Valley, Winchester, Green Valley South, Silverado Ranch, Anthem, Inspirada and more!
Come visit our pet supply store in Las Vegas, NV specializing in quality food, treats, and supplies for dogs and cats.